Frequently Asked Questions about Trophies, Medals and Awards
Prices & Discounts
---
That is easy to answer - it's simply just Yes! As we are a direct importer and manufacturer. We offer quantity discounts of Up To 50% Off on a massive range of trophies, medals and awards. Just select your product of interest, add the quantity and get an instant quote.

Our online system offers big quantity discount savings which are automatically calculated on screen. The Savings are Massive and Unbeatable anywhere in the UK.
Deliveries
---
Our average processing time for orders is 5-7 working days. However, we can process much faster when required; including next-day delivery. As our business is seasonal our annual peak selling season lasts from April to the middle of July. Our turnaround times are less during other months of the year.

Therefore, we ask that you state your required by date whilst placing your order online or contact us for any urgent enquiries which we will always endeavour to meet. We can deliver UK-wide using next-day carriers such as DPD and TNT as well as pallet deliveries for large orders.
Yes, just select the in-store pickup option in the checkout process. Please note we are based in Cardiff, South Wales, UK. CF15 9AA.
Personalised Engraving
---
Yes, we can provide an engraving service on most of our trophies and awards. Look out for the engraving section when ordering.
Generally, there 4 types of engraving:
An Engraved Plate added to your awards

Shot Blast Engraving a giving a frosted effect of text or logos directly to the glass surface

Direct text or logo Engraved to the surface of Silver Cups, Salvers or Tankards.

Engraved Plaque with Logos and Text.
Yes, we do charge for engraving on our trophies. Our engraving prices are lower for higher quantities. Some other suppliers do offer you free plate engraving. However, as our awards are discounted so heavily, the final price including engraving works out to be far cheaper.
These are displayed on a screen where you input engraving on our site and the system will only allow you to input the number of characters allowed on a product-by-product basis.
Custom Club, School, Club, League, Company and Organisational Logos
---
Yes, where applicable approximately 70% of our products can be personalised with your school, club, league, company, or organisational logo. This can be achieved in several ways, please see below.
Look out for the Upload Custom Image within the Customisation Section.
Medals
There are essentially two types of logo medals available, stock medals with custom logo insert with standard stock ribbon attached, or cast bespoke medals. to your design
Stock die-cast medals with your own custom Logo Insert centres in either flat vinyl or acrylic dome finishes. These are standard stock items and all custom inserts are printed in-house, so turnaround times are generally within 5-7 days or quicker by arrangement. However, we can process much faster when required

Cast bespoke medals with your logo or design cast into the metal surface of the medal. These medals can be produced to your specified design, size, shape and coloured finish; with the option of your own bespoke custom design ribbon attached. These are produced in the far east and take between 5-12 weeks to arrive and have a minimum quantity, tooling and importing charges that apply. Please contact us for more information.
General Trophies and Plaques
We can add your custom logo in the form of a custom logo centre. These are available in flat, vinyl or domed finishes.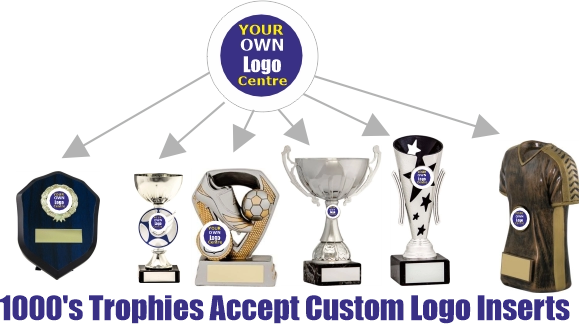 Glass Trophies and Awards
We shot-blast logos and text onto the glass surface, this gives a frosted appearance to the engraved area on the surface. These are stock items and customised in-house and take between
5-7 days
or faster when required.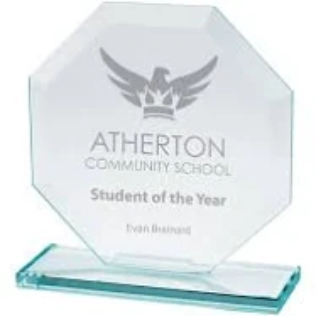 Cup Trophies, Salvers and Tankards
We can engrave logos on silver-plated and nickel-plated cup surfaces these are generally high-value silver cups over £20. Costs for this service are by quotation only.
Printed Glass and Wood Wall Plaques
This service is available on a limited range of glass and wood plaques; subject to minimum quantities. Please forward your enquiry to our customer service department.

We accept the following jpeg, pdf, and Corel Draw are our preferred formats. As well as EPS. PNG, Adobe Illustrator.
You can upload your artwork whilst ordering the majority of our products. But if you have multiple logos or more detailed instructions you can also email or discuss with our customer services team.
We will forward a PDF artwork for all custom logo products, unfortunately, this service is not available for logo centre inserts.


Placing Your Order, we are here to help and guide you through this process
---
This is ok, you can forward your enquiry by Email, and we will send you an emailed quotation. We are also able to forward you a simple to complete
Excel template
to help you place your order with us. You are able to use the copy-and-paste function to simplify and speed up this process. This is a fantastic tool, why not try it out?
download the Excel template here
.
This is ok, submit your order online as normal and select the quotation option in the checkout. Upon receipt, we will forward by email a PDF quotation within 1 hour. This will include your customisations and discounts for you to ok before you pay and commit to your order. Payment can be made at a later date by paying over the phone, cheque or BACS.
Please note that Cheques can take 5 days to clear before your order is processed.
This is ok just submit your order online as normal and select the quote option in the checkout and we will forward a PDF order confirmation by email within one hour. On receipt, if you wish to proceed, forward your purchase order by email quoting your order number, required date and any other order details.
We recommend you check your spam folders for email correspondence from us as many of our emails to schools get caught up in their spam filters.
We understand that event and award day organisers require a quote as a guide to ensure that they are receiving the best-value trophies and awards available. With this in mind, we take into consideration of changes in competitions, number of recipients, budgets or award criteria before you order.
Yes of course you can contact us by email, screen chat or by telephone to guide you through our product range, delivery information or any other questions you may have.
Our online input can speed this process up as you can select lines of engraving to be repeated on all trophies.
For Instance, Generally, Every Award has the event, club, team, and School Name on the 1st line and sometimes the 2nd line also example below.
1st Line of Engraving - My Town Football Club
2nd Line of Engraving - Season 2023 - 24
3rd Line of Engraving - John Smith
Excel Order Template

We also offer a simple to Use Excel Template which is a fantastic tool to speed up your input and supply us with engraving details. Again, Generally, most of the 1st and 2nd line Information does not change you can use cut and paste to cut down tedious keyboard time to place your order.
Use Screen Cut and Paste for Quick input see the example below.

Downloads Excel template here.
Making A Payment, You Can Pay Us Using Various Methods
---
Yes, we take all major credit and debit cards excluding American Express. You can make this payment online during the checkout process.
Yes, please quote your order reference number.
Yes, this is available to Schools, colleges and Public Sector Customers. Submit your order online as normal and select the quote option in the checkout and we will forward a PDF order confirmation by email within 1 hour. If you wish to proceed just forward your purchase order by email for your order to proceed.
We recommend you check your spam folders for email correspondence from us as many of our emails to schools get caught up in their spam filters
.
Your order will not be processed until we receive your purchase order.
Yes, simply place your order via the shopping cart and select the BACS option within the checkout process. We will then send you an order confirmation confirming finalised costs, you are then able to transfer your BACS payment to us using your order number as a reference. It's worthwhile confirming with our customer service team that you have transferred the funds and we have received them. Your order will not be processed if we do not receive payment.
Yes, for payment against purchase orders, large associations, or league orders.
Note this can add a week on despatch time as we must wait for the cheque and funds to clear.
After Sales Service
---
When we despatch your order, we will forward a tracking Reference to the email or phone address provided, this service is only available with our carton deliveries. Pallet deliveries are on the next working day service without an estimated time of arrival.
Of Course, please contact our customer service team and they will be there to help you.
Our Products leave our warehouse in pristine condition and we have quality packaging and preventions to avoid breakages but sometimes cartons can be mishandled in transit. If you have any damages please send us images of the internal and external packaging and images of the damaged trophies by email, so we can further investigate.

Please also quote your order number. Please also note we have multiple images if there are multiple damages to verify and make a claim against our carriers' insurance.